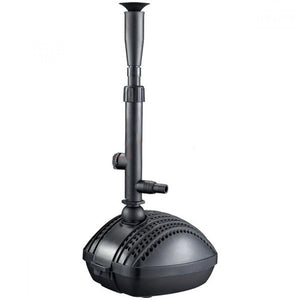 Jebao SPG 1500 Low Wattage Submersible Fountain Pond Pump
Regular price £24.45 Sale
Designed with a protective outer shell to minimize risk of blockages. This fountain pump has a magnetic driven motor with electric driven components which are embedded in resin for operation underwater. Easy to install and maintain,.
KEY FEATURES
Low running costs: SPG-1500 model 25 watts

Extendable telescopic fountain stem

2 different style fountain heads supplied

Adjustable flow rate

Easy to install and maintain

High water flow with low energy consumption for energy conscious and environmentally friendly operation. Robust filter housing minimizes the risk of blockage and makes installation and maintenance easy.

Dimensions (approx):  196mm x 168mm x 115mm
GS and CE approved.
SPECIFICATIONS:
Max. Flow Rate: 1500 LPH

Max. Flow Rate @ 1 metre: 1100 LPH

Max. Head: 2.5 metres

Wattage: 25w

Outlets: 12/15/20mm

Cable Length: 10 metres
Please note: The fountain stem may differ from the picture shown as each SPG model uses a different type of stem.