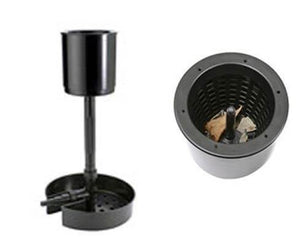 Jebao SK-50 Floating Pond Surface Skimmer
Regular price £41.95 Sale
The Jebao pond skimmer removes floating debris, protein foam and dust from the surface of your water. The Jebao pond skimmer is designed to skim, or pull off floating debris, foam bubbles and dust from the surface of your pond by suction, giving the water a polished look.
An important but very often forgotten piece of equipment when it comes to pond construction is the Surface Skimmer - but don't panic we have the answer. A floating pond skimmer which can be installed in minutes.
Telescopic riser allows the SK-50 skimmer to be used in ponds between 68cm and 86cm depths, in addition the float automatically bridges water level differentials up to a further 10cm. The pump (not supplied) pulls the water and debris through a plastic mesh strainer basket where it can be simply rinsed and removed.
Dimensions (approx):  350mm x 865mm
Please Note: Pump not supplied
GS and CE approved.
SPECIFICATIONS:
Max. Recommended Flow Rate: 4500 LPH