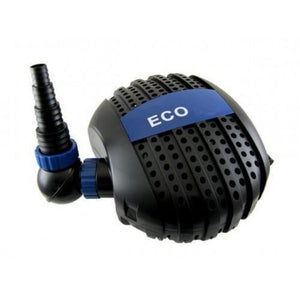 Jebao EFP 13000 Low Wattage Economy Submersible Garden Pond Pump
Regular price £99.95 Sale
These reliable, energy efficient pumps are suitable for watercourses, ponds and waterfalls. They are also perfect to pump water through a filtration system such as pressurised and gravity filters
Jebao EFP pumps have a TRF (Thermal resettable Fuse) device that will automatically switch of the pump if it overheats. This will prevent damage to the motor.
KEY FEATURES
High performance motor with innovative electronics giving up to 50% reduction in energy costs.

IC electronic detection for automatic power-off protection upon no water.

Motor protection if rotor blocked.

High pump head an larger flow rates.

Rust proof ceramic shaft for longer life.
Their flatter "turtle" shape design makes them particularly suitable for use in shallow water.
Dimensions (approx):  320mm x 280mm x 180mm
GS and CE approved.
SPECIFICATIONS:
Max. Flow Rate: 13000 LPH

Max. Flow Rate @ 1.5m: 10900 LPH

Max. Head: 5.5 metres

Wattage: 110w

Outlets: 20/25/32/40mm

Solids Handling: 6mm

Cable Length: 10 metres