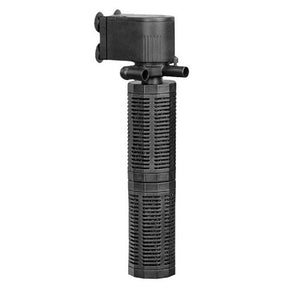 Hidom Internal Aquarium Filter / Pump 1600 LPH - AP-2000L
Regular price £17.45 Sale
Hidom Internal Submersible Aquarium Filter - AP-2000L

The Hidom AP-2000L internal filter is designed for submersible use and is fitted with an optional venturi to help increase oxygen levels and to control circulation.
It is supplied with high quality replaceable carbon filter foams, complete with oxygenating tube and suction caps for attaching to the side of your tank.
Super silent, high quality and low wattage energy saving filtration make the Hidom AP-2000L one of the most popular internal filters used by aquarium enthusiasts.
Suitable for freshwater and marine tanks

Recommended for tank sizes: Up to 350 liters.
KEY FEATURES
High efficiency robust 1600 liters per hour filter.


Low noise operation.

Unique filter chamber allows for both biological and mechanical filtration.


Easy filter media change.
Dimensions (approx):  323mm x 94mm x 60mm
GS and CE approved.
SPECIFICATIONS:
Wattage: 30w

Flow rate: 1600 LPH


Cable length: 1.4 meters approx.

Voltage: 220-240v

Frequency: 50/60 Hz
Fitted with a UK 3-pin plug