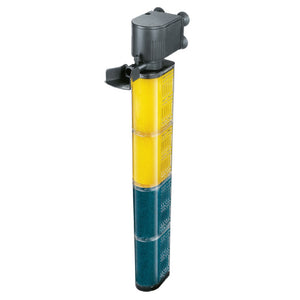 Hidom Internal Aquarium Circulating Filter / Pump 1600 LPH - AP-2000F
Regular price £19.95 Sale
Hidom Internal Submersible Aquarium Filter - AP-2000F

The Hidom AP-F internal filter range is ideal for most aquarium designs. Each filter comes complete with high quality filter BIO foams, air pipe (venturi tube) to help increase oxygen levels and a duck outlet which produces excellent circulation. With its ergonomical design and low wattage the Hidom AF-P filter range produces unbeatable filtration and circulation for your aquarium at extremely low running costs.
Suitable for freshwater and marine tanks

Recommended for tank sizes: Up to 350 liters.
KEY FEATURES
Excellent filtration and circulation.

High flow rate with low running costs


Durable robust design

360° nozzle adjustment

Unique filter chamber allows for both biological and mechanical filtration.


Easy filter media change.
Dimensions (approx):  537mm x 56mm x 76mm
GS and CE approved.
SPECIFICATIONS:
Wattage: 30w

Flow rate: 1600 LPH


Cable length: 1.4 meters approx.

Voltage: 220-240v

Frequency: 50 Hz
Fitted with a UK 3-pin plug