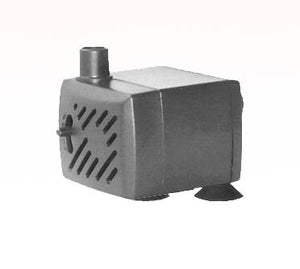 Hidom Handicraft Mini/Small Aquarium Submersible Pump 200 LPH - AP-300
Hidom Handicraft Mini/Small Aquarium Submersible Pump 200 LPH - AP-300
The ultra-quiet AP-300 is perfect for smaller tanks as they are easily hidden also these pumps are ideal for indoor water features. Designed to move and oxygenate your aquarium. They are made from top standard ABS particles, and are suitable for use in saltwater, freshwater and marine aquarium tanks. All models come complete with full flow rate adjustment for better control and efficiency, whatever the task.
Please see below for a full description of all the additional items supplied with this pump.
KEY FEATURES
• 100% Brand New and High Quality.
• Completely submersible motor.
• Extremely quiet operation.
• Suction cups to fit any aquariums.
• Long lasting wear proof ceramic shaft.
• Suitable for fresh and sea water appliances.
• Saving Power and durable
• Safety and corrosion preventive.
GS and CE approved.