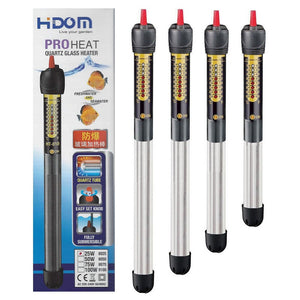 Hidom ProHeat Aquarium Thermostat Quartz Glass Heater 25w - HT-8025
Hidom ProHeat Aquarium Thermostat Quartz Glass Heater 25w - HT-8025
All our heaters are fitted with 1.5 metres of cable.
Hidom's HT-8 range quartz glass aquarium heaters has been designed and manufactured by industry veterans and we are proud to present you with their latest high quality finished product.
The temperature control in your aquarium is a very important aspect of fish keeping. If you keep your aquarium the correct temperature your fish can live longer, however making significant changes to your temperature can put your fish under a lot of stress. An easy to control and maintain aquarium heater is the best option for your aquarium. The Hidom HT-8 aquarium heater range has guaranteed durability and has temperature accuracy to within 1 degree. Setting the temperature is very easy with a small turn of the dial. Ideal for beginners or full time hobbyists the Hidom HT aquarium heater comes in a range of sizes to suit all aquarist's needs.
Recommended for tanks up to 25 litres.
Product features:
All heaters are fitted with UK 3 pin plug
Precise & Reliable temperature control
Fully submersible
Ideal for Tropical / Marine or Freshwater
Easy to set required temperature with temperature scale
High Quality Components
Specifications:
Shockproof 1.5mm Glass
Power: 25w
Voltage: 220v
Frequency 50Hz
Dimensions: 22 x 210mm
Voltage: 220V
Frequency: 50Hz
All heaters come supplied with suckers and holder clips