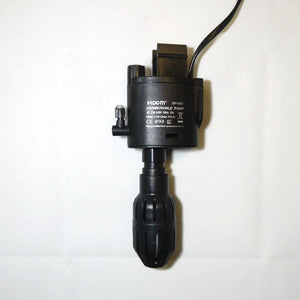 Hidom Aquarium Submersible Muli-functional Water Pump 370 LPH - SP-680
The Hidom Multi-functional Aquarium Submersible Pump is suitable for both fresh water and marine aquariums. These multiple application submersible water pumps are perfect for simple power head use as well as adding vital oxygen to your aquarium fish tank and as part of your aquarium filtration system. Also ideal for overhead filtration systems.

PRODUCT FEATURES.
• Very quiet operation.
• Durable and reliable.
• Energy Saving.
• Strong Performance.
• Can be used on all aquarium types.
• For continued water circulation and enhancing aeration.
• Compact in Size yet powerful deliverance.
• Fitted with UK 3-pin Plug.

TECHNICAL DETAILS.
Max. Litres per Hour: 370
Max. head: 0.7m
Power: 5w
Cable length: 1.4m
Dimensions: 87 x 58 x 134mm
Voltage: 220-240v
Frequency: 50/60Hz
GS and CE approved.