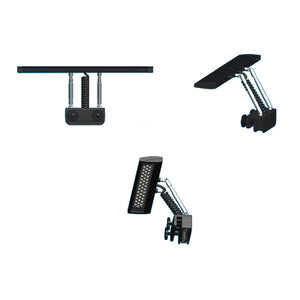 Hidom Aquarium AL Series Clip-on LED Two Mode (Daylight and Twilight) Light
Regular price £15.95 Sale
The Hidom AL series overhead aquarium LED lights are made from the highest quality components with sleek elegant design. Fully adjustable can even be laid flat to fit under an aquarium cover/hood. It's easy to use bright LED two mode display will illuminate your tank with a penetrating white light or a cool ambient blue light and show off your aquarium and its contents the way it's meant to be. A low wattage output means these lamps will not break your bank balance either.
All model available in either black or silver.
PRODUCT FEATURES.

Ultra-thin sleek aluminium design
Fully flexible arms
Energy-saving and environment friendly
Quick and easy installation
Fitted with a UK 3 pin plug
Cable length: 165cm
SPECIFICATIONS.
Model: AL-2
Number of LED's: 20
Power: 5.0w
Unit Length: 240mm.
Model: AL-3
Number of LED's: 32
Power: 8.0w
Unit Length: 340mm.
Model: AL-4
Number of LED's: 44
Power: 12.0w
Unit Length: 440mm.
GS and CE approved.