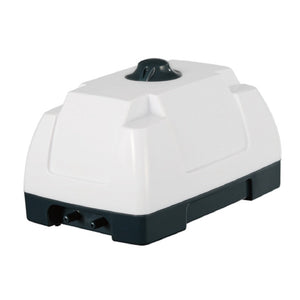 Hidom Twin Valve HD-805 Aquarium Air Pump - with built in non-return valve
Regular price £14.45 Sale
The Hidom HD air pump 8 series is designed to oxygenate your aquarium efficiently and quietly with its low power consumption, advanced air compressing system and a patented built in non-return valve system. The HD 8 series also comes with a built in carbon air filter removing toxic particles before the air is pumped to your tank. The ABS shell and unique 3 pronged rubber feet reduces noise so you can enjoy your aquarium in peace and quiet.
Recommended tank size: 120 to 800 litres.
KEY FEATURES
Low noise operation.


Low power consumption - 6.0w.

High flow rate - 6.0 L/min


Twin outlet

Durable long lasting design.

Adjustable flow rate.

Built in carbon air filter

Patented non-return system
Dimensions (approx):  150mm x 115mm x 95mm
GS and CE approved.
SPECIFICATIONS:
Voltage: 220 - 240v

Pressure: 0.030 Mpa

Wattage: 6.0w


Outlets: 2

Flow rate: 6.0 L/min

Frequency: 50/60 Hz