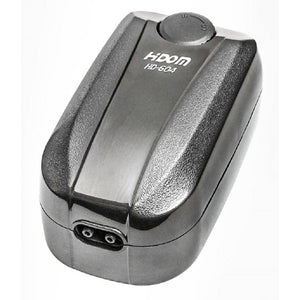 Hidom Aquarium Air Pump Twin Valve HD-603
Regular price £10.95 Sale
Hidom Twin Valve HD-603 Aquarium Air Pump

The Hidom HD air pump series is designed to oxygenate your aquarium efficiently and quietly with its low power consumption and advanced air compressing system. The ABS shell reduces noise so you can enjoy your Aquarium in peace and quiet.
Please make your pump size selection from the drop box above.
Recommended for tank sizes: 60 to 400 litres.
KEY FEATURES
Low noise operation.


Low power consumption - 4.0w.

High flow rate - 4.0 L/min


Twin outlets

Durable long lasting design.

Adjustable flow rate.
Dimensions (approx):  129mm x 71mm x 63mm
GS and CE approved.
SPECIFICATIONS:
Voltage: 220 - 240v

Pressure: 0.016 Mpa


Wattage: 4.0w

Outlets: 2

Flow rate: 2.0 L/min

Frequency: 50/60 Hz