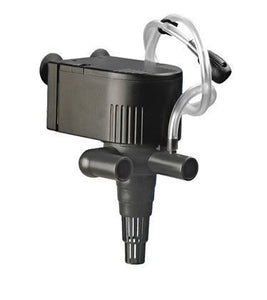 Hidom Aquarium 3 in 1 Submersible Powerhead Water Pump 1200 LPH - AP-1600
Submersible aquarium powerhead designed for pushing water to an external filtration system or simply moving water around your tank, simulating flow or currents.

PRODUCT FEATURES.
• Silent operation.
• Durable and reliable.
• Energy Saving.
• Strong Performance.
• Can be used on all aquarium types.
• For continued water circulation and enhancing aeration.
• Compact in Size yet powerful deliverance.
• Fitted with UK 3-pin Plug.

TECHNICAL DETAILS.
AP-1600:
Voltage: 220~240V
Frequency: 50/60Hz.
Qmax: 1200 L/H.
Hmax: 1.4m.
Power: 25.0W.
Dimensions: 87X58X134mm.
GS and CE approved.