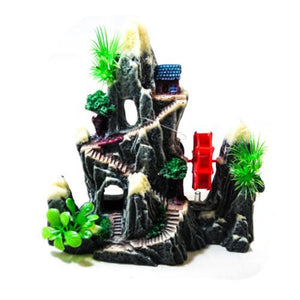 Aquarium Fish Tank Resin Ornament - Stepped Rock Cave with Water Wheel
Add character and charm to your aquarium with this fine detailed stepped rock cave water wheel ornament which is perfect for small to medium sized (Height 21 cm) fish tanks.
Fish can hide and explore in the nooks and crannies that have been designed into the ornament. When used in conjunction with a airline and air stone the water wheel will revolve creating a beautiful bubble effect adding a further feature to your tank.
Manufactured using high quality poly resin and hand-painted with specially designed non-toxic paint.
Dimensions: Height 21 cm, Width 22cm, Depth 9 cm