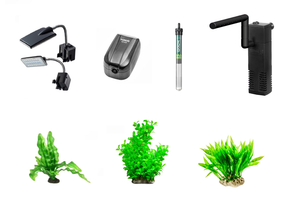 Aquarium 50 Litre Tank Start-up Set: Heater, Filter Air Pump, LED Overhead Light and Plants
Regular price £31.95 Sale
Ideal for small fish tanks up to 50 litres.
When you purchase in bundles we can really help to push the cost down even lower. This bundle saves you an additional 25%.
Bundle Set Contents:
Hidom HT-2050 Submersible Aquarium Thermostat Heater - 50w
Hidom AP-300L Internal Filter - 3w
Hidom HD-601a Air Pump with Accessories - 2w
Hidom CL-3B LED Clip-on Light (24 LED's) - 2w
Stick-on thermometer
3 x Artificial Plants (Types may vary from photo depending on availability)
The HD-601a Air Pump includes air line, air stone, non-return valve, T-connector and straight connector. This ensures it is fully complete and ready to go - no need to have to make additional purchases.
Please Note: All these items can be found sold separately within the store with full product descriptions.